Missing skipper Hany Mustapha had bought yacht hours before disappearance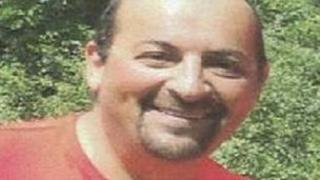 A sailor whose disappearance sparked an air and sea search in the Solent had only bought his boat hours earlier, it has emerged.
Hany Mustapha, 46, of Kingston-upon-Thames, bought the yacht called Brigand in a private sale in Poole on Saturday.
He told yacht club staff he was sailing to Hayling Island. The yacht was later found unoccupied off the Isle of Wight.
Coastguards said the search for Mr Mustapha had been suspended until new information was received.
A large-scale air, land and sea search for Mr Mustapha began when the yacht was found beached near Brighstone on the Isle of Wight at 17:15 BST on Saturday. Its engine was still running, but there was no one on board.
A five-hour search involving two Coastguard helicopters and RNLI Lifeboats from Lee On Solent, Yarmouth and Mudeford was carried out.
A further search on Sunday was also suspended when nothing was found, the Maritime and Coastguard Agency (MCA) said.
An MCA spokesman said: "The search has been suspended but if we get any new information that prompts us to an area then we will recommence a search."
Mr Mustapha was last seen wearing a white sailing jacket, sunglasses and a hat.
Det Insp Pete Little, of Dorset Police, said they were "obviously concerned" about Mr Mustapha.