BTC Southampton Football Club pitch 'destroyed' by trespassers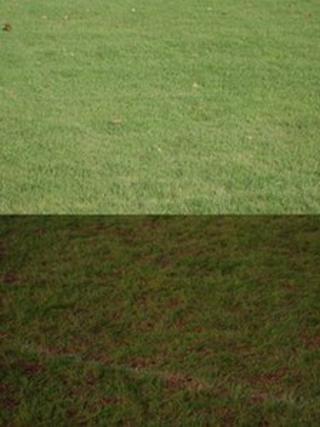 A specially-designed football pitch has been "destroyed" after trespassers climbed fences and played a match in the rain.
BTC Southampton Football Club's Under 11s pitch, on Stoneham Lane, had been being prepared since April.
Chairman Damon Brown said he was "incandescent" with anger at what amounted to £10,000 of damage caused.
Hampshire Constabulary said it had carried out forensic tests at the scene and would watch CCTV footage.
Mr Brown said: "We spent the whole of the summer getting this pitch ready for our youngest players, and they played one game which they thoroughly enjoyed.
"It's specifically designed to practise their skills and now it's ruined, not by kids but by adults with no regard at all for other people's property.
"The club is run by volunteers and in two hours they destroyed what has taken the whole year to get together, and now we're worried they'll come back."
The incident took place on Friday afternoon. The club is only open at weekends.
A police spokesman said the force was trying to trace eight people who had scaled the club's 8ft-high fences.