Hampshire street lights to be 'remotely managed'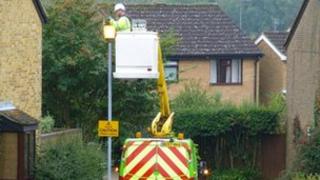 Street lights in Hampshire are to be managed remotely after the county council went into partnership with a power company.
The deal means faults with lights can be detected automatically, helping ensure they are fixed more quickly.
It comes after a Horndean resident told the council this week that a light in his road had been faulty for two years.
The council, which has now fixed it, said the new technology will help avoid such problems again.
Signed with Scottish and Southern Electric (SSE), the council's Street Lighting Private Finance Initiative (PFI) partnership will also see the county's 150,000 street lights, illuminated signs and bollards will be replaced or updated over the course of a 25 year project.
A spokesman said: "The scheme will bring many benefits for residents including reduced carbon emissions by up to 15%, reduced light pollution and the capacity to target lighting in areas of high crime.
"Implementation of the initiative began in April 2010, starting in Basingstoke and Gosport."