Ford Southampton Transit plant 'could close'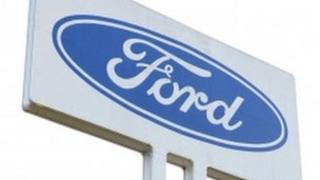 Ford's Southampton factory, which employs about 500 people, could close, the BBC understands.
The US carmaker is expected to make an announcement about the factory, which makes Transit vans, on Thursday after a management and union meeting.
The company, which is restructuring its European operations, would not confirm or deny the reports.
Labour MP John Denham, for Southampton Itchen, said it would be "devastating" if the factory shuts.
'Falling sales'
He said: "Huge numbers of families would be affected. It would also be very bad for the UK motor industry.
"Obviously, we hope it's not true but it would be devastating if it closed, there are hundreds of jobs that depend directly on the plant and many others in the local economy.
"Southampton is the only place that still makes complete Ford vehicles of any type in the UK."
Conservative MP Caroline Nokes, for Romsey and Southampton North, said: "I've always had concerns for the future of the factory and it now looks like there will be an announcement tomorrow indicating that it's going to close.
"Most of the UK motor manufacturing sector is doing well but unfortunately there's a history of falling sales of Transit vans, I think we've got to do all we can to get these 500 people other jobs within the city."
Southampton City Council's Labour leader, Richard Williams, says the suggestion comes completely out of the blue.
'Help employees'
He is backing plans for extra support and said "we want to help those workers affected as much as possible".
"As a council we will work with Job Centre Plus and other local agencies to form a task force to help employees find alternative work," Mr Williams said.
"A similar approach was taken earlier this year when British Gas made 500 call centre workers redundant, and the vast majority have since been found new roles."
Earlier Ford said it was starting consultations on closing its Factory in Genk, Belgium, with the loss of 4,300 jobs.