Hampshire Chief Constable Alex Marshall to leave force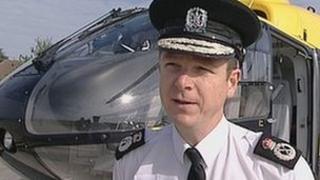 Hampshire Police Chief Constable Alex Marshall is to leave the force to become the chief executive of the new national College of Policing.
Home Secretary Theresa May MP made the announcement in parliament earlier.
Mr Marshall is expected to leave Hampshire Police in the new year. He has been in the job since 2008.
The new police and crime commissioner, who will be elected on 15 November, will select and appoint Mr Marshall's successor.
Mr Marshall has previously served with the Metropolitan Police, Cambridgeshire Constabulary and Thames Valley Police, where he was deputy chief constable.
In his new role, Mr Marshall will retain the rank of Chief Constable and be responsible for overseeing training standards for all police in the UK.
Describing the appointment as "a fantastic opportunity", he said: "It's a chance to replace bureaucracy and unnecessary policies in policing with practical, common sense approaches based on sound evidence."