Sat-nav used before death in flood at Headley ford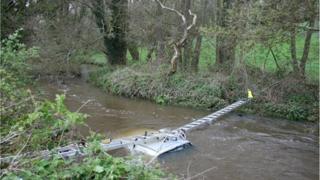 The wife of a man who died when their car was swept down a river in Hampshire followed sat-nav directions into a flooded ford, an inquest has heard.
Jonathan Gammon and his wife Priscilla Turner, from Teddington in south-west London, were attempting to cross the ford at Thornford Road, Headley.
The car driven by Ms Turner was submerged in 1.5m (5ft) of fast flowing water, police said at the time.
A coroner in Alton recorded a verdict of accidental death.
'Door wouldn't open'
Police said the car was swept about 100m (328ft) downstream.
Ms Turner managed to swim free after the car came to a stop, but Mr Gammon and their dog Gabby both died.
Ms Turner told the inquest: "I remember driving into the water but the water looked deceptive to me, it just looked quite shallow.
"The next thing I recall was water coming into the car. I do not recall whether the car was stationary or was moving.
"I do recall Jonathan trying his window and it wouldn't open, he tried the door and it wouldn't open."
Local Peter Hemmings, who saw what happened, told the inquest that drivers frequently got into difficulties at the ford while using sat-nav.
He said: "It's unfortunate that this is the case. Most of the people who do get stuck and are not local have been using sat-navs.
"It is an open road, it appears on the sat-nav as a road without showing the ford. We have to warn people visiting us not to use the road."
Ms Turner, who was 55 at the time, said her husband called the emergency services and seemed frightened.
"I remember saying to him 'Stop panicking, I will sort things' and I had a belief I would get us out of danger," she said.
"The next thing I recall is standing on the bank and looking down on the submerged car."
Mr Gammon worked as a mental health tribunal judge and the couple were travelling to the Thornford Park Hospital, a secure hospital for men detained under the mental health act.
'Appalling situation'
Ms Turner said they had not driven to the hospital before and had been using a sat-nav system.
She added: "I just remember Jonathan's last words, his fear, his panic.
"I do not know how I got out of the car, I always thought I was pulled out until quite recently."
Recording a verdict of accidental death from drowning, North Hampshire Coroner Andrew Bradley called it an "appalling situation".
He said he had personally reviewed the warning signs in place at the ford and said that they appeared adequate.
The site is under review by Hampshire County Council.