HMS Edinburgh sailor held over alleged gun incident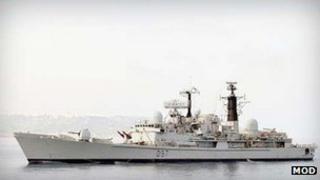 A Royal Navy sailor has been arrested after allegedly entering an officer's cabin on board a warship with a loaded gun, the Ministry of Defence (MoD) said.
The arrest follows an incident on Portsmouth-based Type 42 destroyer, HMS Edinburgh while off the coast of Portugal on September 28.
The rating was detained and has been brought back to the UK.
Service police are investigating and no charges have been brought.
An MoD spokesman said: "The Royal Navy can confirm that a rating from HMS Edinburgh was arrested following an incident on September 28 and the rating was returned to the UK.
"The incident is still under investigation and no charges have been made; therefore it would be inappropriate to comment further."
Security concerns
In August, 20-year-old engineering technician Samuel Hatton killed himself with a rifle on HMS Cattistock in Portsmouth.
Following his inquest Portsmouth Coroner David Horsley raised concerns over the security of firearms on Royal Navy warships.
Mr Horsley said he would write to the Navy, calling on it to increase security for weapons storage.
In another separate incident, a senior officer was shot dead and another injured on the submarine HMS Astute in Southampton in April 2011.
Able Seaman Ryan Donovan was jailed for at least 25 years for murder following the shooting on HMS Astute at Winchester Crown Court in September 2011.