Brading Waxworks Museum elephant sold at auction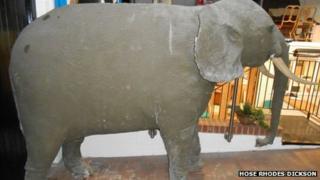 A baby elephant which was an exhibit in a former Isle of Wight museum has been sold at auction.
The African elephant, thought to date back to Victorian times, was sold to a Sussex antiques dealer for £6,400.
Its hide, stretched over a 6ft (1.8m) wire frame, was an exhibit at Brading Waxworks Museum until its closure in 2010.
It had been expected to sell for about £1,000. Antiques dealer Spencer Swaffer said his purchase was "most amazing".
Mr Swaffer said he intends to display the elephant in his shop Arundel High Street which specialises in selling the "weirdest and quaintest things imaginable".
He insisted there was a burgeoning market in such unusual items.
Edwina Gist of Hose Rhodes Dickson auctioneers on the island said there had been "quiet a bit of interest" in the sale and was surprised the guide price of £800-1,000 had been exceeded by so much.
Mr Swaffer said: "You might think it would be quite a gloomy and sad thing, but actually it looks quite cheerful."