Petersfield PC Alex Stypulkowski 'bravest in country'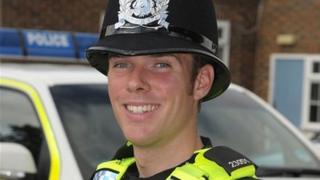 A Hampshire PC who was repeatedly stabbed by a man with a screwdriver has been named the most courageous police officer in England and Wales.
PC Alex Stypulkowski was given the top award after tackling the mentally ill man who attacked him in Petersfield.
The man was known to be dangerous and had previously taken his mother hostage.
The annual Police Bravery Awards on Thursday night were attended by 53 nominated officers.
It was held at London's Plaisterers' Hall and was followed by a reception at 10 Downing Street.
PC Stypulkowski was named as overall winner for "his determination to arrest the man despite near fatal injuries to himself".
Receiving the accolade he said: "It is absolutely incredible. The stories from everywhere else have been just fantastic, it's an absolute honour."
The officer had been deployed to assist social services and firearms officers in sectioning the man under the mental health act in November 2010.
He arrived at the scene and chased the man but became separated from his colleagues and ended up in a dark road surrounded by bushes and trees.
'Highest praise'
The man turned to face him, brandishing a screwdriver, telling him: "You're going to die."
The officer used CS spray on the man, but he continued walking so he struck him on the leg.
When he fell he dragged the officer with him and, as they struggled on the ground, PC Stypulkowski said he could feel sharp blows to his back and neck.
Another officer arrived and the man ran off, with both officers giving chase.
The man was eventually arrested after PC Stypulkowski's colleague used a Taser stun gun.
PC Stypulkowski described the experience as "sobering".
"Adrenalin has a lot to answer for. I knew I was alright, he was a dangerous guy and needed to be caught. I did what my colleagues would have done for me.
"Police officers put themselves in harm's way day in day out and you never hear about it," he said.
In hospital, PC Stypulkowski was found to have stab wounds to his head and neck, with one having narrowly missed his jugular vein.
Paul McKeever, chairman of the Police Federation of England and Wales, said: "PC Stypulkowski deserves the highest praise for his courage and determination.
"Knowing the risks, PC Stypulkowski fearlessly put his own life on the line to pursue this very dangerous offender."
The 17th annual bravery awards ceremony was organised by the Police Federation of England and Wales, in partnership with Police Mutual.