Voyage of Recovery for addicts back in Portsmouth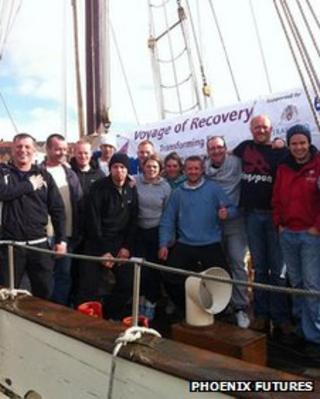 A traditional sailing ship crewed by recovering alcohol and drug addicts has arrived back in Portsmouth after a trip around the coast of Britain.
During the 12-week "Voyage of Recovery" more than 100 addicts learnt to sail the 80ft gaff ketch Tectona.
The 1,800-mile (2,897km) trip was organised by the Phoenix Futures and the Tectona Trust charities.
Bob Campbell, of Phoenix Futures, said it had been a "really transformational experience" for the recovering addicts.
Those taking part were being treated for drink and drugs issues at Phoenix's addiction centres across the country. They sailed alongside the Tectona Trust professional three-man crew on board.
The crews, most of whom had no previous experience of sailing, had to endure tough weather conditions at sea, including force eight gales.
Mr Campbell said: "Without exception they found it really challenging and they can see now what they want to do with life.
"It reinforced a determination to succeed and added to people's ability to see beyond their recovery to a new life in front of them."
'Amazing experience'
Experts at Plymouth University studied how the voyage helped crew members recover from addiction.
Duties on board during each five-day leg included navigation, manning the sails, hauling up anchor, preparing meals and keeping the ship clean.
Donna Barry, from Wirral, Merseyside, described her days at sea as "quite literally the most amazing experience of my life".
"Steering the ship into Liverpool was overwhelming and brought with it a real sense of achievement that will stay with me forever.
"I've returned focused and at peace with myself," she said.
Fundraising is still continuing to meet the final £15,000 of the £70,000 cost of the trip and the charity says it hopes to repeat the project.
Tectona was built in India in 1929 and is now owned by a trust to give sail training to people with mental health and addiction problems.
The three-month schedule included stops at ports including Milford Haven, Holyhead, Liverpool, Glasgow, Peterhead, North Shields, Ipswich and London.