Isle of Wight prison merger still remains 'challenge'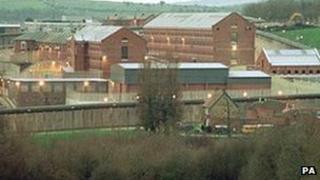 The merger of three prisons on the Isle of Wight is still proving a "challenge", a watchdog has found.
HMP Isle of Wight was formed from the merger of Parkhurst, Albany and Camp Hill prisons in 2009.
An HM Inspectorate of Prisons (HMIP) report said there had been some progress but highlighted overcrowding, bullying and drug use.
The National Offender Management Service (NOMS) said the merger had delivered "significant" savings.
The report said provision for the high number of older prisoners had improved and mental health services were good at all three sites.
'Disparate establishments'
However it found the number of alleged bullying incidents was higher than at similar prisons, and black and minority ethnic prisoners expressed "negative perceptions" about their treatment.
Inspectors criticised overcrowding and poor shared amenities and toilet facilities at the Albany site.
There were "relatively high levels of illicit drugs" at Camp Hill and "significant prisoner-on-prisoner victimisation" at Parkhurst.
However it did point to significant improvements at Parkhurst where staff-prisoner relationships and health care were better.
When the three prisons were combined into one category B jail, holding about 1,700 inmates, it was said the move would save more than £1m a year.
But the merger has been criticised in previous inspections and by penal campaign groups. The governor Barry Greenberry resigned in 2010.
'Significant savings'
HMIP's Nick Hardwick said: "Our overall findings at HMP Isle of Wight are mixed. Our healthy prison tests show continued and significant variation between the sites: there is some improvement at Albany, some deterioration at Parkhurst and little change at Camp Hill.
"As we indicated last time, these variations are the best evidence of the challenge in making these disparate establishments a coherent whole.
"We were shown specific and particular plans to advance the project, but we are aware of scepticism among both staff and prisoners about the future."
Michael Spurr, Chief Executive Officer of NOMS, said the creation of a single prison had already delivered "significant savings for the taxpayer".
"We are committed to managing prisoners safely and the governor and his staff will continue to work with the available resources to build on the integration process already under way and address concerns raised in the report."