Southampton Redbridge roundabout roadworks begin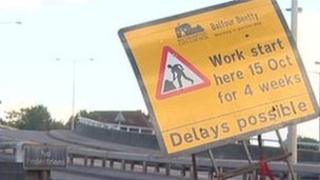 The first phase of major roadworks on a Southampton roundabout has begun, with disruption expected until mid-November.
Redbridge roundabout and flyover is one of the major routes in and out of the city at the end of the M271.
Contractor Balfour Beatty is warning of a "high impact on traffic" as it carries out resurfacing work and upgrades to drains.
An estimated 60,000 vehicles a day use the roundabout.
Project manager Rowan Shepherd explained earlier investigative work had revealed underground damage to drains around the roundabout.
He said: "We're working alongside Southern Water to begin as they have already discovered various leaks.
"This first phase should last between four or five weeks up until the end of November."
He said the contractor intended to give "commuters a break over Christmas" before beginning the main resurfacing work in February.