Portsmouth's D-Day Museum makes £4.3m lottery bid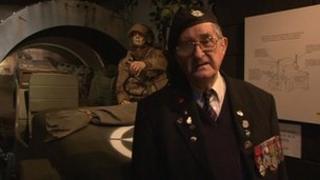 The D-Day Museum in Portsmouth has submitted a £4.3m lottery bid to transform the attraction in time for the events 71st anniversary in 2015.
The museum opened in 1984 and houses the Overlord Embroidery, an 83-metre-long textile tribute to the veterans.
If successful, the money would be used to update the museum and collect stories from survivors.
Dr Jane Mee, who is behind the bid, said time was running out to gather first hand accounts of the operation.
"We feel if we don't capture their recollections of what happened it will be too late," she said.
Frank Rosier was a private with the Gloucestershire Regiment which landed on Gold Beach in Normandy on 6 June 1944.
'Record memories'
He said it had been a harrowing battle.
"The carnage on that beach was not something a young boy should see, pretty tough. But our orders were to run, keep running and even if your best friend got hit, not to stop to help him up," he said.
Now, aged 87, he agrees that a project to gather an oral history of D-Day is a good idea.
"In a few years there won't be many of us left," Mr Rosier said. "So it's important that we record those memories and the experiences we went through… I think the children of today, there is such a great gap between that time and now so I think it's important to know what it was all about."
The Heritage Lottery Fund will decide on the first round of the bid in November. The museum will then have 12 months to work up the proposal for a second round to be decided by 2014.
If it gets the money the renovated museum will open in 2015.