Care4Care volunteers 'bank' hours in Isle of Wight pilot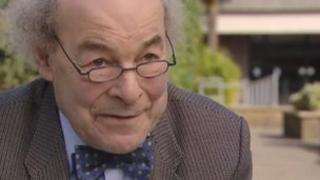 Over the last six months, 36-year-old Lewis Jenkins has been looking after his 87-year-old neighbour, Pearl Bradshaw.
In that time he has spent about 20 hours helping her around the home, doing her shopping and keeping her company.
These are hours that he can "bank" and then "collect" later, when he is in need.
It is all part of a pilot scheme on the Isle of Wight called Care4Care which is being run in partnership with Age UK's Good Neighbour project.
Mark O'Sullivan, who manages it from its base in Newport, said it was an extraordinarily cost-effective way to provide care.
Explaining how it works, he said: "My mother lives in Andover, but I have five family members scattered around the country. So if they could all put in an hour a week, we'd have five hours credit which we could use to pay a volunteer to look after our mother in Andover."
The Good Neighbour scheme on the island already allows people to volunteer, but they do it without reward.
This year they have donated 8,387 hours to 420 elderly people which they support with "comfort care packages", which includes activities as simple as walking the dog.
Because it was proving so successful it was picked by TV scientist Professor Heinz Wolff to run the pilot of his Care4Care idea.
After a little more than six months, 145 Good Neighbour members have signed up to the professor's scheme.
He hopes it might be able to attract more than a million volunteers nationally over the next three years.
'A big help'
Lewis Jenkins said it had been a good way for him to donate his time, and said: "I would like to think that those hours that are banked could be used for either my mother or myself if and when I need it."
Mrs Bradshaw said she had benefited enormously.
"I spend quite a lot of time talking to him, and he talks to me, and that's a big help to me because people don't come [to see me]," she said.
Volunteers can register for Care4Care on the website or join the scheme by filling out a form. The work they do is then banked onto a database.
Mr O'Sullivan says it is not designed to replace work being done by councils and government, but it will add an additional level of service where there are "widening gaps".
However, Prof Wolff himself offered a cautionary word of warning. He said: "The problem is whether the next generation is sufficiently keen to ensure safety in [its]own age to invest the hours that will buy [its] care pension."
You can find out more about the cost of caring for the elderly on Inside Out: Elderly care special on BBC One South on Monday at 19:30 GMT.