Hawk Conservancy Trust installs kestrel boxes for study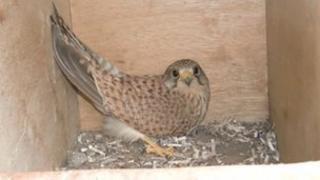 A wildlife charity in Hampshire is putting up 106 kestrel nesting boxes to study what effect they have on numbers.
From 1995 to 2010 the population in Britain declined by 32%. The latest study estimates there are now between 53,000 to 58,000 breeding pairs.
The Hawk Conservancy Trust has raised £20,000 for the project to see if the boxes could halt the decline.
It is using four control sites and four test sites to compare the impact of the boxes over four years.
All the nest boxes will be put in place by volunteers over the weekend. Each person has contributed £500 to take part.
The trust's life president, Ashley Smith, said: "One of the lovely things about this is the diversity of the people who have come on board.
"We have people from all different backgrounds with the one common theme that they all love wildlife and they all love kestrels."
Scottish and Southern Electric has provided 20 of its vehicles, kitted out with ladders and equipment, to help.
Among the volunteers taking part are the Hogsback chapter of the Harley Davidsons.
In total the test sites cover 106 square kilometres (41 square miles). The areas range from Portsmouth in Hampshire to Chichester in West Sussex and from Winchester across to Andover.