Carnage UK pub crawl criticised by student unions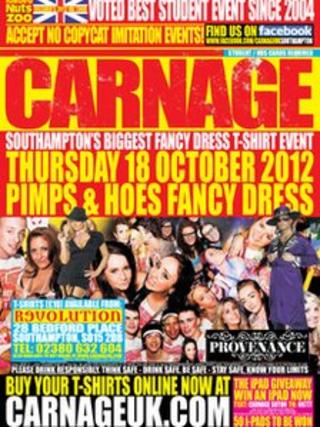 Student unions in Southampton and Portsmouth have criticised a student pub crawl with a "pimps and hoes" fancy dress theme.
Carnage UK, which organises events across the country, said the theme had been chosen by students.
But Southampton University Students Union believe it "ostracizes women" and "promotes sexual degradation".
And Portsmouth University Students Union feels Carnage UK's events also fail to promote responsible drinking.
Carnage UK will be holding pub crawls in Portsmouth on 14 October and in Southampton on 18 October.
Both events are sold out and students have to purchase an official T-shirt to attend.
'Socially irresponsible'
Similar events have been taking place around the country to coincide with university freshers' weeks.
Chloe Green, vice president for welfare and communities at Southampton Students Union, said: "It's socially irresponsible.
"Carnage UK don't have a great reputation for promoting equality between men and women and this choice of fancy dress theme does little to repair that with student unions."
Godfrey Atuahene Junior, president of Portsmouth University Students Union, has wider concerns about the events.
He said: "If attention to detail is not maintained, criminal offences of selling alcohol to already heavily intoxicated people, or allowing disorderly conduct on any of the premises involved in the event, could occur."
Steven Hughes, Carnage UK spokesman, stressed their events are "lawful and well run".
He said: "In terms of fancy dress theme, we won't ban any particular choice and we open the vote up to students on our Facebook pages to let them decide what they want.
"We provide our own registered security staff and medical cover. Capacities are strictly limited and we liaise with both the police and licensing authorities before any event to identify issues which might occur."