Mary Rose anniversary marked by Solent boat trip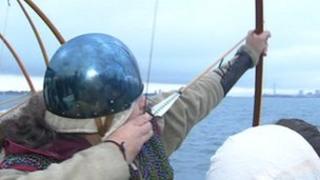 A ceremony has been held at the wreck site of the Tudor battleship Mary Rose to commemorate its raising.
It has been 30 years since the wreck was raised, at a cost of £4m, after 437 years on the bed of the Solent.
A boat sailed to the sinking site and a group of longbow archers dressed in Tudor outfits fired arrows in a salute.
It had been hoped a new museum built to house the ship would be ready for the anniversary but in September trustees announced it would open in 2013.
As well as longbow archers, the boat from Portsmouth Historic Dockyard carried a Tudor musician, chief executive of the Mary Rose Trust John Lippiett, Bruce Parker - the BBC commentator on the day of the raising - and members of the public.
Tudor time capsule
Mr Lippiett said: "My goodness me, it was the Titanic of the day.
"But this is also in memory of the people who put so much effort into this - the staff, the volunteers - thousands of people in the last 30 years working to preserve her for the benefit of the nation."
Mr Parker added: "It was an historic broadcast, not only a moment in history in terms of the maritime raising of the Mary Rose.
"There are literally thousands, and thousands and thousands of artefacts in superb condition.
"As somebody said right at the beginning of the project, this is a Tudor time capsule - and that's exactly what it is."
The trip was organised by the Mary Rose Trust.
The divers involved in the raising will be holding a private reunion party on Saturday to mark the anniversary. A number of lectures have also been organised, which are already fully booked.
The £36m museum at Portsmouth Historic Dockyard will also house 19,000 artefacts from Henry VIII's flagship.
The Mary Rose Trust received a £21m grant from the Heritage Lottery Fund to complete the conservation of the hull and build the permanent museum.
The ship sank while leading an attack on a French invasion fleet in 1545, and was raised from the sea bed on 11 October 1982.