New Forest's hidden youth homelessness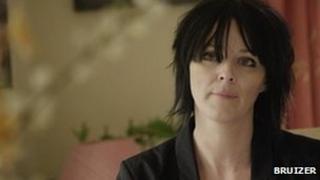 It is an affluent area set within a picturesque National Park - but there is a hidden problem with homelessness in the New Forest, a charity worker has said.
"People don't even believe homelessness exists in the New Forest because it's a pretty prosperous area," said Jude Todd, from youth homeless charity New Forest Nightstop.
"Some of the young people we help come from very, very wealthy backgrounds and you wouldn't even know they were homeless. But homelessness can happen to anyone."
'Dodgy people'
Ms Todd, who herself was homeless aged 16, runs New Forest Nightstop in Ringwood, Hampshire, providing emergency accommodation to young people aged between 16 and 24.
Volunteer "hosts" open their homes to people homeless in the district, providing them with a meal, a bed, a hot shower and a listening ear.
Over the last 10 years the charity has provided 1,700 nights to over 230 young people, and has now reached the final of the National Lottery Awards in the Best Voluntary Project category.
Ms Todd runs the charity alone with the help of trained and approved volunteers.
She can relate to what young homeless people are going through because she was homeless for two years, she said.
As a teenager she found herself sleeping on the streets and in derelict houses - begging and rummaging in bins for food.
She "hung around with dodgy people" and suffered from mental abuse and was exposed to drink and drugs.
'Pinned down'
"When you've got no-one and you've been rejected you seek acceptance from any type of person," she said.
"For so many years it kept me pinned down and I know the devastation it can have.
"I'm pretty fierce in my defence of young homeless people because of it.
"When people come to our homes they are often shocked at the acceptance they get and the fact that we are actually letting them in our houses."
Ms Todd said the charity faced particular problems because the district's towns and villages were so spread out, with those from the Ringwood side of the New Forest normally heading to Bournemouth and those from the Totton side of the district heading to Southampton.
It means many people lose the connections they had with their community, she said, although there have been reports of young people staying in the area and sleeping out in the forest.
Katie Wanjiru-Mindo said the charity saved her life. After suffering from sex abuse as a child in Kenya she said she came to the UK where she was rejected by her family.
'Felt like rubbish'
Ms Wanjiru-Mindo lived on the streets - spending as much time as she could in the libraries and public buildings.
She said she felt like "rubbish" and wanted to take her own life.
"I didn't want to upset somebody if they found my body by a bin - I just wanted to take my own life in private," she said.
It was Ms Todd who took her into her home after she was referred to the charity by a local agency.
"She saw me as a person and just let me be, and the following day I had a cup of tea and I didn't have to think, 'am I going to get raped or killed'?
"Jude never told me I couldn't do anything or shouldn't feel anything, she just encouraged me. I was so inspired by her and thought what I could do with my own life."
Ms Wanjiru-Mindo received help from the charity with finding somewhere to live and accessing therapy.
"I felt so much better and got some self-worth and self belief and it led to better and bigger things - I knew I was never going to be by myself.
"The charity is just amazing and I would have to look in a dictionary to find the words to describe it."
Four years later and Ms Wanjiru-Mindo is now a youth worker. She was chosen as a torchbearer in summer's Olympics and hopes to go on to study at Winchester University.
The winner of the National Lottery Award charity category will be decided by a public vote online - with the winners receiving funding and being featured on BBC One later in the year.