eBay antique dealer 'faked famous signatures'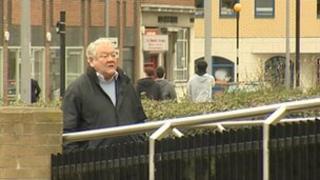 An antiques dealer has gone on trial accused of selling books on eBay signed with fake autographs of public figures including Winston Churchill, Robert Louis Stevenson and Pablo Picasso.
Allan Formhals, of Milford on Sea in Hampshire, denies 15 counts of fraud and possession of articles for the purpose of committing fraud.
He found books at car boot sales and a recycling centre and added signatures, Southampton Crown Court was told.
He allegedly made thousands of pounds.
Expert's opinion
Mr Formhals lied to collectors, from as far afield as Texas in the US, about the provenance of the items, the court heard.
Collector Kim Taylor-Smith bought 68 signed books and documents bearing Churchill's fake signature for about £10,000, prosecutor Simon Edwards said.
Mr Formhals told him the books came from the estate of the late Neville Duke, a famous World War II fighter pilot who lived in Milford on Sea.
However, in November 2010, Mr Taylor-Smith had some of his items examined by an expert in Churchill books and was told they were forgeries.
"A number of items were left with him overnight. He called Mr Taylor-Smith the next day with the ghastly news that each and every Churchill signature was a fake," Mr Edwards said.
Police also found the forged signatures of JRR Tolkien, Oliver Cromwell, Elizabeth I and Marie Antoinette at Mr Formhal's home, the court was told.
Mr Edwards said that when interviewed Mr Formhals told officers he got the books from Wimborne and Matchams car boot sales in Dorset, and denied being responsible for the signatures.
"He said he was not an expert on books and advertised them as signed, as opposed to signed by," he said.
"He believed them to be genuine but he did not advertise them for sale as such or guarantee them as such."
Mr Formhals denies all charges against him between 2009 and 2011. The trial continues.