A34 Range Rover transporter crash causes lengthy road closure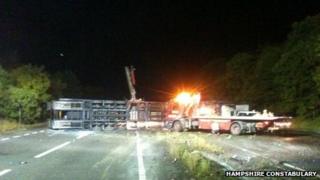 All lanes have reopened on the A34 in Hampshire after a vehicle transporter under tow struck the central barrier, shedding its load of cars.
The crash happened on the northbound carriageway near Whitchurch on Monday night. No-one was injured.
Lanes in both directions were shut for most of Tuesday.
A 29-year-old man has been arrested on suspicion of dangerous driving, driving with an insecure load and causing danger to other road users.
Hampshire police said the fully-loaded transporter was being towed by a heavy recovery vehicle when it broke free and hit the barrier, crossing on to the opposite carriageway.
No other vehicles were involved but there was "extensive damage to the road surface and barrier".
An earlier police message on Twitter described the scene as having "lots of expensive Range Rovers all over the road".