Poole father admits giving baby heroin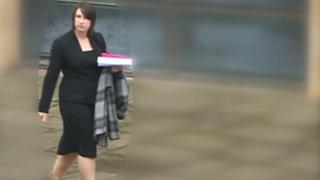 A Dorset father has admitted injecting heroin into the mouth of his 20-month-old baby daughter and trying to murder the child's mother.
Roger Weir, of Slough Lane, Poole, admitted the charges at Winchester Crown Court earlier.
He shot his ex-partner Gillian Blackmore, 27, with a flare gun before attacking her with a meat cleaver in Eastleigh, Southampton, on 7 May.
The 45-year-old will be sentenced on Friday.
Weir told police he had squirted heroin into his baby's mouth to "get at" her mother, the court heard.
The baby spat out most of the substance and was not harmed.
Covered in blood
Weir was angry that his former fiancee had a new partner, Barry Towler, a police community support officer, the court heard.
He told police: "I can't live with the thought of someone else raising my daughter."
Weir went to Ms Blackmore's flat armed with a specially-adapted flare gun capable of firing bullets.
He told her "I want you dead" before firing the gun at her, beating her with a baton, and attacking her with the cleaver.
Ms Blackmore managed to escape and raise the alarm. Police found her covered in blood from injuries to the back of her neck.
The court heard Weir had locked himself in a room with the baby and was threatening to kill her.
A police officer finally persuaded him to come out.
Weir admitted administering a noxious substance to the child, with the prosecution accepting he had not wanted to murder the child and had acted "in the heat of the moment".
He pleaded guilty to attempting to murder Ms Blackmore.