Boris Karloff's daughter visits Bramshott to help church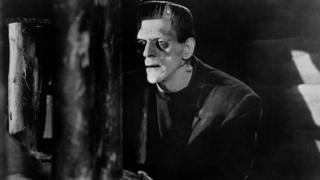 The daughter of the late actor Boris Karloff is visiting the village where her father spent his final years to help raise money for its local church.
Best known for playing Frankenstein's monster in three 1930s films, Mr Karloff lived in Bramshott, Hampshire, until his death in 1969, aged 81.
Sara Karloff is visiting the village later to lend her support to the church roof campaign.
Another £55,000 is needed to repair the 13th Century St Mary's church.
Louise Garwood, from Friends of St Mary's, said of Mr Karloff: "He loved listening to the church bells and when he died his widow bequeathed a set of bells in his memory."
Ms Karloff will visit the church, where the bells will be rung in her father's honour, and will later look round his village cottage, known as Roundabout.
In the evening she will front a fund-raising event at the Liphook Millennium Centre, to be followed by a screening of the film which made her father a star, the 1931 classic, Frankenstein.
Boris Karloff was born as William Henry Pratt in London in 1887. He emigrated to Canada in 1909 but returned to the UK later in life.