Bedhampton industrial unit fire sparks 999 calls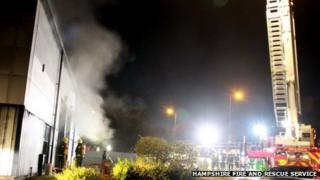 Four lorries were damaged in a fire at an industrial unit in Hampshire.
Control operators fielded more than 30 phone calls as smoke from the blaze in Larchwood Avenue, Bedhampton, moved across the A3(M) on Saturday night.
Gas cylinders were reported at the premises but crews quickly established they were not at risk of exploding and removed from the scene.
More than 30 firefighters tackled the fire at the unit which housed the lorries. An investigation has begun.
Two of the vehicles were severely damaged by the fire while the other two were badly damaged by smoke.
Station manager Dave Graham said: "Once acetylene cylinders were reported we quickly entered the premises and were able to remove them safely.
"We worked closely with our colleagues in the police, who assisted us with traffic management in the surrounding area."