Freshwater crash man Gerald Webb 'served country' in RAF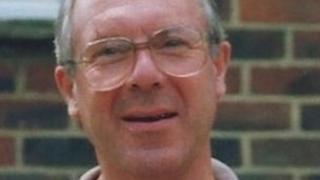 An 82-year-old pedestrian who was killed when he was hit by a van on the Isle of Wight had served his country in the RAF, his family has said.
Gerald Webb, from the Freshwater area, was trapped under a white Ford Courier van in Copse Lane Freshwater on Friday.
His family said he had been "blighted" by dementia in his last years alive and needed full-time nursing care.
The van driver, a 75-year-old local man, has been bailed on suspicion of causing death by careless driving.
Mr Webb's family said, after his time in the RAF, he worked as a primary school teacher until he retired at the age of 70.
They added: "Family and friends were obviously devastated to learn that Gerry had died under such circumstances.
"He felt he had served his country and was proud of that.
"On retirement he moved to his beloved Isle of Wight, where he spent many peaceful years playing badminton and bowls."
They thanked the emergency services and also extended their thoughts to the driver involved.
Hampshire police is appealing for witnesses to the crash on Friday evening.