Southampton FC programme sellers claim to be sacked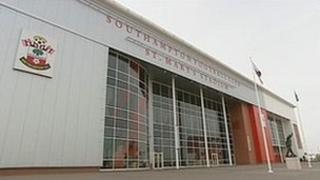 Programme sellers at Southampton Football Club claim they have been sacked and replaced with agency staff.
About 20 sellers have received written notice from the club telling them their services will no longer be required.
Southampton said its sellers would be based at new locations as of Sunday's home Premier League match with Fulham.
Ally Brown, a seller for more than 20 years, has described the news as "devastating". The club are yet to give an official response.
'Lot of experience'
Mr Brown, from Basingstoke, said: "It's come as quite a shock and to be honest, it hasn't really sunk in yet.
"It's been a big part of my life, not so much the money made from the job, but from being at the matches and around the club."
The 47-year-old support worker and carer admits he is struggling to motivate himself to go back to the club's St Mary's Stadium, having supported Southampton for 38 years.
He added: "There's a lot of experience in the team and we know our routines really well. I can only think they have made the move in order to save money."
An announcement on the club's website said the new programme selling locations hope "to alleviate congestion both in and around the stadium".
They believe the move will make their sellers "more mobile".