Southampton docks biomass marine design is chosen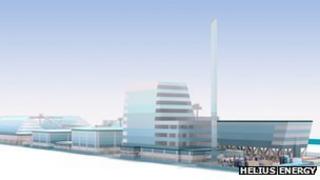 A "marine-inspired" design for a proposed biomass power station at Southampton docks has been chosen.
Helius Energy plans to construct a £300m wood-fired plant at the city's Western Docks which it says will generate power for about 200,000 homes.
The company said the design had been selected after a public consultation and a planning application would be submitted in autumn.
The plan has been criticised by local residents and councillors.
Councillors from all parties have joined the criticism. Council leader Richard Williams previously called the plant an "enormous eyesore".
The Labour-run council planned to hold a local advisory referendum, asking people from the Freemantle and Millbrook wards if they supported the construction of the plant.
However it was deemed it would cost too much to hold the poll.
A group of residents from the nearby area protested against the plans last year.
No Southampton Biomass (NSB) called it an attempt to "sneak in a large scale development under our radar with purposely misleading literature and dubious environmental claims".