Michael Pedersen and children's stab death inquest opened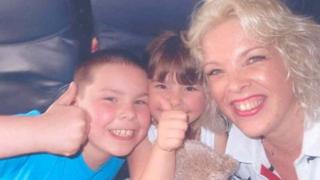 An inquest into the deaths of a former army sergeant and his two children, who he is believed to have stabbed to death, has been opened and adjourned.
The bodies of Michael Pedersen, 51, and Ben, seven, and Freya, six, were found next to a car in Newton Stacey, near Andover, Hampshire, on Sunday.
Police believe Mr Pedersen, of Chertsey, Surrey, stabbed the children before killing himself.
The inquest at Winchester Coroner's Court was adjourned to 5 December.
Mr Pedersen had been on an arranged visit with Ben and Freya from his estranged wife Erica but failed to return them to their mother at the pre-arranged time, police have previously said.
Erica Pedersen raised the alarm two hours later.
In a short statement she said: "My angels are in heaven now", but did not want to comment further.