Isle of Wight missing boy Damien Nettles: Reward for information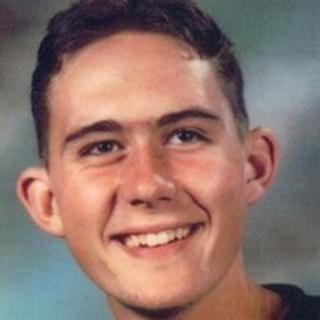 Police investigating the disappearance of an Isle of Wight teenager 16 years ago are offering a £20,000 reward for information.
Damien Nettles was last seen after a night out in West Cowes on 2 November 1996. He was 16.
The last remaining CCTV of Damien shows him at Yorkie's fish and chip shop in Cowes High Street at about 23:45 GMT.
His mother Valerie believes her son may have been killed over a cannabis debt.
Last year, eight people were arrested in connection with his murder but were later released without charge.
Earlier this year, Damien's family began fundraising for their own £10,000 reward in a bid to solve the case.
Both the family and police believe answers can be found on the island.
'Dwindling loyalties'
Mrs Nettles, who now lives in Texas, said: "I feel that everything should be achieved that can be achieved and a reward, in my mind, is one of those obvious things that you do.
"I'm glad that finally we will get an opportunity to do a reward with the backing of the police.
"I have to be thankful that it's happening now, but I wish it would have happened 16 years ago."
She said the time that has passed may mean someone is finally willing to talk about what happened to Damien.
"Sixteen years ago, there were a lot of loyalties in the community that perhaps would have prohibited people from wanting to come forward and speak up about what they know.
"Maybe now old loyalties have dwindled and fizzled out. This could be an incentive for those people. It's not too late."
Supt Dave Powell said: "The police's commitment to find out what happened to Damien is unwavering and undiminished.
"Our resolve remains to secure reliable evidence that can confirm his whereabouts.
"Police recognise that some people may have been worried about sharing what they know over the past 16 years.
"However, for anyone able to genuinely help - now is the time for you to examine your conscience and motives.
"Ask yourself a simple question: Can you really tell us what happened to Damien?"