Housing plan for Winchester's Barton Farm given go-ahead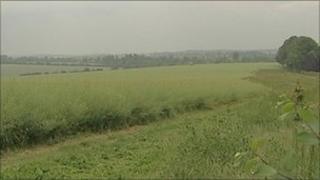 A property development company has been given the go-ahead to build 2,000 homes near Winchester.
Cala Homes has wanted to build the homes on the 230-acre site at Barton Farm for 14 years.
Communities Secretary Eric Pickles approved the plans. He had turned them down but reconsidered when the firm took its case to the Appeal Court.
Winchester and Chandler's Ford MP Steve Brine described the decision as "bitterly disappointing".
"Cala Homes have very deep pockets and have relentlessly pursued Winchester over many years until they got what they wanted," the Conservative MP said.
Mr Brine said the development would make the city a "less comfortable place" to live.
'Overtaken by events'
"We will get used to it, and not too many years from now we'll no doubt struggle to remember how it looked before, but a special piece of the landscape setting of Winchester will be gone forever."
Robert Millar, group land director of Cala, said: "Local people will benefit greatly from this decision.
"It will be a major contributor to stimulating the local economy and creating long-term jobs."
Residents have always objected to the plans, saying the city's roads, schools and services could not cope with so many new homes.
Keith Wood, leader of Winchester City Council, said said: "We argued strongly about the application, but we have been overtaken by events.
"The council now needs to ensure that the development of this site generates all the promised benefits to the community."
Of the 2,000 homes, some 800 will be social housing for people on the city council waiting list.