SeaCity Museum funding shortfall 'can be met' by council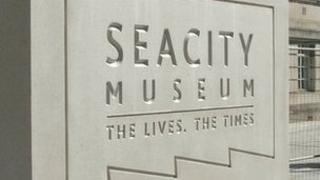 Southampton City Council says it can afford to pay for the SeaCity Museum despite an ongoing funding shortfall.
The £15m museum opened in April to coincide with the 100th anniversary of the Titanic leaving the city on its fateful voyage.
Since then, Southampton City Council has changed from a Conservative-run authority to a Labour one.
The council is looking to secure more funding towards the museum having already received £5.3m in grants.
The Havelock Road visitor attraction was built on the site of the city's former police station and law courts and opened on 10 April.
The Heritage Lottery Fund contributed a £4.9m grant towards the cost while the city council contributed the rest.
When asked under the Freedom of Information Act how much money still needs to be raised to cover the cost, an exact figure was not supplied.
But the city council said it "has always anticipated making a significant capital contribution".
'Protecting revenues'
Councillor Warwick Payne, cabinet member for housing and leisure, said the council's capital budget could cover the ongoing cost.
He said: "It would have been better if the previous council had put more money towards the project, but we are where we are.
"Officers are continuing to look at trying to reduce the burden on taxpayers, but unfortunately the previous administration spent the money first and then looked around for the funding later.
"We can't unbuild the museum, so from our point of view, it's about protecting the revenues it generates."
Conservative leader Councillor Royston Smith defended the money spent during his time as council leader.
He said: "If you look at what the city now has, you will realise we will never build a building like that again.
"That museum will be with us, one way or another, for the next 100 years and we have left a very valuable legacy for the city."
The Freedom of Information Act request also revealed almost 91,000 people visited SeaCity in its first six months of business.
The museum is well on course to meet its projected visitor numbers for the first year of 123,000.
But take-up of 98,000 free family tickets sent out to households across the city was low, with only 13,570 used.