Newton Stacey deaths: Dad 'killed children and himself'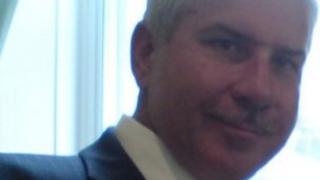 Two children are thought to have been stabbed by their father before he took his own life, the BBC understands.
Police believe the man was Michael Pedersen, from Surrey, who was found in Newton Stacey, Hampshire, with his children Ben, seven, and Freya, six.
The children had already been found dead before their mother reported them missing on Sunday evening, police said.
Mr Pedersen, 51, was an ex-serviceman who survived an IRA attack in London, a former colleague has told the BBC.
Nail bomb
Alex Chalmers said he served in the Household Cavalry with Mr Pedersen.
Four members of the Household Cavalry and seven horses were killed in the IRA bomb blast on 20 July in 1982.
Mr Pedersen and his horse Sefton survived when a nail bomb in a car was detonated in Hyde Park, Mr Chalmers said.
The horse survived despite suffering 34 separate wounds that required eight hours of surgery and became a famous symbol of the time.
Mr Chalmers, from Bashley, Hampshire, said he had seen Mr Pedersen in July at an event to commemorate the 30th anniversary of the bombing.
"He was in good spirits. He didn't mention anything at all, he was just good humoured," Mr Chalmers said.
"I only saw him twice since I left the Army, the other time was at a comrade's birthday a couple of years ago.
"I'm just shocked and saddened. There's two young kids there who had their lives ahead of them."
The Ministry of Defence said it was aware of an incident involving a former serviceman but declined to comment further.
It is thought Mr Pedersen, who was estranged from the children's mother, was visiting his father in Andover.
Det Supt Tony Harris, of Hampshire Police, said the "tragic incident" happened during an arranged visit.
'Extremely distressing'
He said Surrey Police will refer the case to the Independent Police Complaints Commission (IPCC) because of some previous contact with Mr Pedersen.
Surrey County Council said it could not yet comment on whether Mr Pedersen was known to social services as there has been no formal identification.
He was living in Chertsey, Surrey, while his children were living with their mother Erica in Ashford, Surrey, and attended Ashford Primary School.
Head teacher Caroline Dyer said: "We are all deeply shocked and saddened at this news.
"The school is in contact with the relevant authorities but as this is currently the subject of a police investigation we are unable to make any further comment."
The children's maternal grandfather, William Clifford, 67, said outside his daughter's home: "We are obviously devastated and what we would ask is that you respect our privacy in this matter."
The three bodies were found next to a car by a dog walker at about 18:15 BST.
Post-mortem examinations are due to be carried out later.
Newton Stacey is about five miles south of Andover, between Chilbolton and Barton Stacey, and is made up of a handful of cottages and country homes.
'Terrible incident'
Passer-by Andy Harris, who lives locally, was in the area with his wife.
He said: "It's shocking, you don't know what to think. You don't expect this type of thing in the countryside."
Det Supt Tony Harris, of Hampshire Constabulary, said: "Throughout the night, police worked to identify the families of the victims and notify them of what had been discovered.
"A Home Office pathologist attended the scene and at this stage it appears that the children suffered fatal stab wounds and Mr Pedersen took his own life soon afterwards.
"We are treating this as an isolated incident and we do not believe anyone else was involved.
"Our thoughts are with the family and friends of those involved at this extremely difficult time and I would ask that they be allowed to come to terms with what has happened in a dignified and respectful way."
Police said the coroner had been informed.