Twyford rally marks 20 years since protest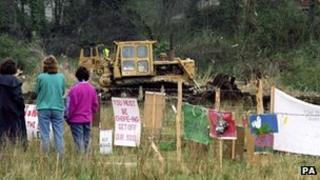 A rally has been held in Winchester to mark the 20th anniversary of the campaign against extending the M3 through Twyford Down.
About 100 people, including veterans of the original protest, took part.
A 98ft (30m) banner was unfurled on top of the down which read: "Twenty years since Twyford Down. Don't go backwards, no new roads."
The protest in the 1990s led to delays in the project and costly legal action, but the motorway was still built.
Protesters jailed
Work on the 40ft (12.2m) wide and 100ft (30.5m) deep, two-mile (3.2km) cutting through the chalk face of the down started in 1992.
It led to bitter fights, with several protesters eventually being jailed.
Campaigners occupied the site in tunnels and chained themselves to diggers in an attempt to stop the extension, after years of legal challenges to the work failed.
The extension was completed in 1994 but at a high cost, and countrywide opposition caused the government to rethink its road-building policy.