Memorial dedicated to WWII heroes of Hayling Island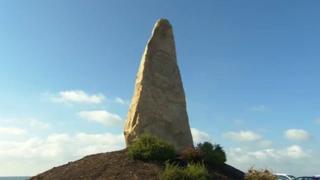 A memorial stone in honour of a covert World War II Royal Navy unit has been unveiled on the Hampshire beach where the group trained.
The Combined Operations Pilotage and Reconnaissance Parties (COPP), set up in 1943 to improve invasion techniques, practiced in Hayling Island.
They consisted of 200 volunteers assembled by Lord Mountbatten.
His daughter Countess Mountbatten officially dedicated the 12-tonne granite stone at a ceremony earlier.
Seven survivors of the secret unit attended and watched as she unveiled the memorial, which sits on a two metre-high mound on the seafront.
Afterwards a lunch was held at the Hayling Island sailing club, the same place which served as the COPP headquarters during the war.
Shone beacons
Trained as frogmen and canoeists, the sailors used small submarines to chart potential invasion sites along Normandy's beaches ahead of the D-Day landings.
They gathered information for D-Day planners about the German defences and the geology of the beaches to ascertain whether tanks could safely land on the sand.
Later, during the invasion, they shone beacons to guide the Allied landing craft safely onto shore.
Between them, members of COPP won 90 medals and commendations in less than three years of active service.
Part of the £30,000 cost of the memorial was raised by former submariner Jim Booth, one of nine surviving COPP members, who wanted to support a memorial fund to honour his colleagues.
Mr Booth, 91, from Somerset, said: "Nobody feels brave, do they.
"I think us young men thought of it as a wonderfully exciting moment - it really was exciting.
"They were beautiful boats and they had everything there, and it was a big operation, we knew that, so taking part in it was fantastic."
The stone was brought from a granite quarry in Cornwall and transported to Hayling Island by a team of six soldiers from 24th Regiment Royal Engineers Commandos back in July.