Southampton container berth building starts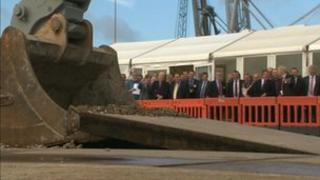 The £150m construction of a new berth at Southampton's container terminal has begun with the first paving slab lifted into place.
The ceremony marked the start of a project which will allow ultra-large container carriers to dock in the city.
Two existing berths originally commissioned in 1972 will be combined to make a new deep sea berth.
Bosses say the investment will help maintain an estimated 10,000 jobs connected to the port.
Peter Jones, chief executive of Associated British Ports, said it would also help to develop the port's international reputation.
The quay will be 500m (1640ft) long with five cranes and a depth of 16m (52ft).
Dredging works, to widen and deepen parts of the main approach channel between the Isle of Wight and the port, are awaiting approval by the Marine Management Organisation.
The works are due to be completed by December 2013 and operators hope the berth will be operational in January 2014.