Protests fail to save ancient oak in Widley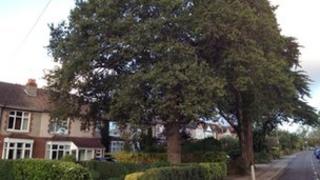 An oak tree believed to be well over 200 years old has been cut down despite calls from residents to save it.
The 22 metre (72ft) specimen was once part of a tree-lined avenue at Purbrook House, Widley.
In 1986 the government overturned a Tree Protection Order on the oak and granted the owner permission to fell it, but this was never done.
Now the new owner has removed the plant on the basis of that ruling.
'Too large'
Grahame Soffe, whose mother lives next to the property, said he was completely devastated by the loss of the tree.
"It's been here for 250 years," he added. "We've known it all our lives and its part of the character of the whole area.
"There's nothing wrong with it, it's very healthy and there are very few examples of these old oak trees surviving in this area."
Colin Tibbett, who owns the tree, said it was expensive to maintain and far too large for his garden.
Havant Borough Council confirmed that because the previous permission still existed, Mr Tibbett was legally entitled to fell the tree.
The council said a replacement tree would be planted in the front garden, with the owner's agreement.