Hayling Island World War II heritage trail opens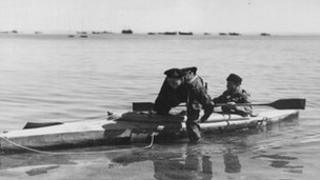 A new walking trail through former World War II training sites has been opened in Hampshire.
The Hayling Island Heritage Trail crosses land which which was was taken over by the military during the war.
New information boards tell the story of preparations for the D-Day landings and the construction of Mulberry Harbours on Hayling Island.
Project leader Robin Walton said the training and reconnaissance work "saved thousands of Allied lives".
The four-mile (6.5km) trail takes in the remains of gun emplacements and sites which were used to test landing craft in the run-up to the invasion of Normandy in 1944.
The opening of the trail was marked with a display of military vehicles.
A 12-tonne granite stone is to be unveiled as the centrepiece of the trail on Thursday.
The 4m-high stone is a memorial to the Royal Navy's Combined Operations Pilotage and Reconnaissance Parties.
The secret unit was set up in 1943 to improve reconnaissance techniques ahead of D-Day and was based on Hayling Island.