Darren Mackrell jailed for drugging and raping children in Southampton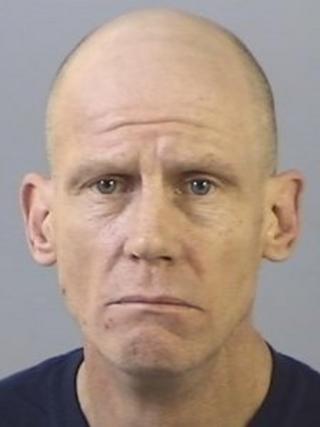 A man who drugged and raped three schoolchildren after meeting them at a Hampshire park playground has been given an indeterminate jail sentence.
Darren Mackrell, 45, raped two boys aged eight and 10 and a girl, nine, at his Southampton flat on 21 April.
He had admitted 18 charges of rape, sexual assault, forcing the viewing and engagement in sexual acts and drugging.
The court heard he forced the children to sexually abuse each other while he watched during the six-hour ordeal.
Winchester Crown Court was told that the unemployed drug addict, of Wilton Avenue, gave the children cannabis, amphetamines and Viagra.
He also threatened to hurt them if they tried to leave - showing one boy a large hunting knife.
Judge Gary Burrell QC told Mackrell he would spend at least 10 years in jail and may never be released if he continued to pose a danger to children.
'Depths of depravity'
Sentencing Mackrell, he said: "As a parent, when a child goes missing, you fear the worst, you fear something bad has happened to them.
"Something bad did happen to these three young children on that day.
"Your behaviour towards them plumbed the depths of human depravity.
"There is no room for mercy, Darren Mackrell, in a case as horrific as this. What you did to these children was truly dreadful."
The court heard Mackrell's victims had been traumatised by their ordeal with one boy harming himself and writing suicide notes and the girl unable to speak about it.
Mackrell was caught after one of the children's mothers became concerned about their whereabouts and went to the park to look for them.
She found out that the children, who cannot be named for legal reasons, were at Mackrell's home and called the police when nobody answered.
An officer tried to break the door down after looking through the letterbox and seeing a pornographic video playing on the television.
Mackrell, who pleaded guilty to all the charges on the eve of his trial, was placed on the sex offenders register for life.