Gannet Jacuzzi wins British Wildlife Photography Award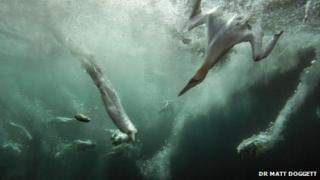 A photograph of gannets taken by a man from Southampton has been awarded overall winner at this year's British Wildlife Photography Award.
Dr Matt Doggett, 33, from Southampton, took the image, Gannet Jacuzzi, at a remote location off the north coast of Scotland.
It shows a group of seabirds diving through the surface of the water.
Greg Armfield, from World Wildlife Fund, was one of the judges and described it as "a striking image".
He added it captured "the raw power and grace of the diving gannets".
Dr Doggett, whose image beat thousands of entries, said: "It was an incredible experience being in the water surrounded by these high speed divers."
Organisers said this year's competition had seen the "highest level of entries" since its launch in 2009.
Twelve categories and two junior-level awards were judged.
Ninety winning and commended images are being showcased in a year-long travelling exhibition throughout the UK.