Southampton university labs to reopen after poisoning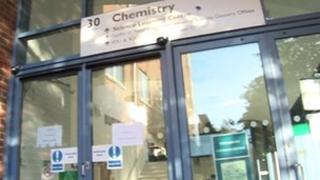 Science labs at Southampton University are due to reopen after shutting when a PhD chemistry student became ill with chemical poisoning.
Tests revealed the 25-year old man, who fell ill more than three weeks ago, had arsenic and the highly toxic metal thallium in his body.
He is being treated at a specialist toxicology unit in Cardiff.
One floor of the affected building on the Highfield Campus is to remain closed for police investigations.
The student's condition is not known.
A university spokeswoman said the majority of labs would open from about 07:00 BST on Tuesday.
She added it was not anticipated the closure would have any impact on new and existing students due to arrive for the new term over the next few weeks.
Rat poison
On Friday police said the incident did not relate to any leak or airborne emission from university buildings, is not transmittable and may not be connected with the university at all.
Tests have also been carried out by specialist teams from Hampshire Fire and Rescue Service at a non-university property in Burgess Road.
Thallium, a potent toxin, was once incorporated into rat poison. It is used today in the manufacturing of electronic devices.
Exposure to large amounts will cause vomiting, diarrhoea, temporary hair loss, and will affect the nervous system, lungs, heart, liver, and kidneys.
Arsenic is also a highly toxic metalloid which can cause multiple organ failure in those who ingest it.