Southampton University labs shut after student poisoning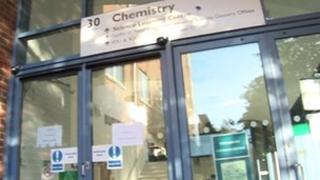 Science labs at Southampton University have been closed after a PhD chemistry student became ill with chemical poisoning.
Tests have established the 25-year-old male student had a quantity of thallium and arsenic in his body.
He is being treated at a specialist toxicology unit in Cardiff.
Police and the Health and Safety Executive (HSE) are investigating and say there was "no reason to believe" there was a risk to public health.
Specialist Hampshire Fire and Rescue Service officers are also conducting tests at a non-university property in Burgess Road.
Staff screened
A statement from the university said it is not yet known how the chemicals entered the student's body before he fell ill three weeks ago, but some research labs on the Highfield Campus have been closed as a precaution.
It said it has already been established it did not relate to any leak or airborne emission from the university's buildings.
"We would like to reassure students, staff and the public that this is an isolated incident and may not be linked to the University," it added.
People working in relevant areas of the university are being given the opportunity for voluntary screening.
Thallium is a highly toxic odourless and tasteless bluish-white metal used today in the manufacturing of electronic devices.
Exposure to large amounts can be fatal. It causes vomiting, diarrhoea, temporary hair loss, and affects the nervous system, lungs, heart, liver and kidneys.
Arsenic is also a highly toxic metalloid and causes multiple organ failure.