Timmy MacColl: Navy starts missing persons review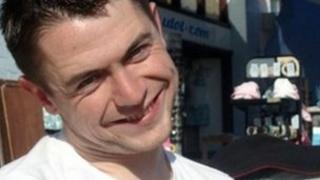 A review of how missing person cases are handled has been started by the Royal Navy following the disappearance of a Hampshire sailor.
Leading Seaman Timmy MacColl, of Gosport, went missing in Dubai during a visit by HMS Westminster in May.
The navy said a Service Inquiry would "assess current processes, policies and procedures".
A spokesman insisted Dubai Police were still running the search and investigation.
Leading Seaman MacColl, originally from Killin, Stirlingshire, was last seen at 02:00 local time on 27 May, while on shore leave in Dubai.
'Normal procedure'
It is believed crew mates put the father-of-two in a taxi from a hotel bar after a night out, but he did not return to the ship.
The navy spokesman added the Ministry of Defence and Foreign Office were continuing to liaise with the Emirati police about their ongoing investigation into the disappearance.
He said the Service Inquiry was "normal procedure" and "does not attribute blame".
A Bring Timmy Home campaign has been set up by family and friends who have been raising awareness by placing yellow ribbons around the Gosport area.
A Facebook group has so far attracted 109,000 people.
Leading Seaman MacColl is described as white, 5ft 8ins tall, of medium build, with short brown hair cropped with a flicked fringe.