Hampshire Police Authority approves Alpha Park and HQ move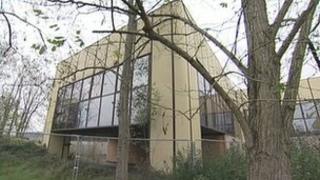 Hampshire Police is set to move into a controversial new premises, four years after it bought the site.
Alpha Park near Chandlers Ford in Eastleigh was bought for £9.2m in 2008 but has stood empty since.
Hampshire Police Authority (HPA) confirmed the force will move to the site, as well as purchase another building in Winchester City Centre.
John Apter, Hampshire Police Federation chairman, said: "It's taken far too long, but it is a good decision".
The moves are part of an £83m investment programme in custody accommodation and office space.
The plan is described as "cost-neutral" with receipts from the sale of some existing buildings being used for new projects.
There had been plans to sell off part of the eight-acre Alpha Park site, but the force will now use the full area.
About 600 police and civilian staff will work at the new base, with firearms, vehicle repairs, criminal records and IT support among the areas being consolidated at Chandlers Ford from around the county.
A meeting of the authority also confirmed a decision to buy Mottisfont Court, owned by Hampshire County Council, in the centre of Winchester.
It will become the corporate headquarters for 170 staff, replacing the current 1960s building at West Hill, Romsey Road, Winchester which costs about £1m a year to run.
Chief Constable Alex Marshall said the force's priority was reducing crime but it also had to provide a good working environment for its smaller workforce.
Mr Apter said the move was "sensible".
"I'm really pleased the decision to put the [Alpha Park] land to good use, and get police officers in there.
"The investment over many years in the estates has not been what it should - the old HQ site is not fit for purpose.
"Other parts of the constabulary's estate around the county and on the Isle of Wight are creaking at the seams, we need the space urgently."