Cruise cancelled after Cunard Queen Victoria mechanical failure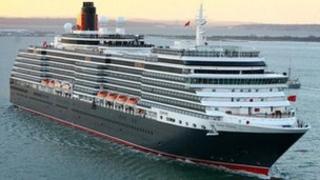 A forthcoming cruise on Cunard's Queen Victoria has been cancelled after the ship suffered mechanical failure.
Part of the ship's propulsion system failed on Monday, meaning it was forced to sail at speeds 10% lower than usual.
Cunard said there was no danger to the passengers or crew on the Southampton-based liner, currently off Portugal.
It said the next voyage would go ahead on Thursday but an Adriatic cruise in October has been cancelled while the ship is repaired in a German dry dock.
A Cunard spokeswoman said there had only been "minor port timing changes" to the ship's Mediterranean current cruise schedule following the failure.
Passengers due to depart on the cancelled 16-night Adriatic voyage from Southampton have been offered refunds or transfers to other cruises.
Cunard said the cancellation was "regrettable but unavoidable".
Queen Victoria is due to re-enter service after repairs in Bremerhaven, Germany on Wednesday 17 October.
BBC South transport correspondent Paul Clifton said the vessel, which launched in 2007, was able to continue sailing safely without the use of one engine or one propeller, but it was a highly unusual situation.