Approval given for Portsmouth bridge at Northern Road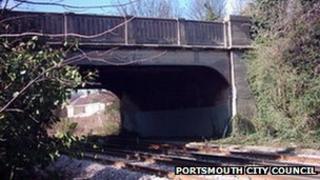 Final government approval has been given to a £12.6m scheme to replace an old railway bridge in Portsmouth.
The original bridge at Northern Road, Cosham, was built to carry a dual carriageway road but is now too weak to do so.
As a result traffic has been restricted to a single lane in each direction and the bridge has weight restrictions.
The new bridge, which is scheduled to open in October 2013, will meet current national standards.
Transport Minister Norman Baker said: "This is an important scheme that will restore the full capacity of this route, help boost the local economy by reducing congestion and ensure journey time reliability for bus passengers."
The Department for Transport will provide a maximum of £11.1m towards the total £12.6m cost of the scheme.