Portsmouth Mary Rose museum not opening until 2013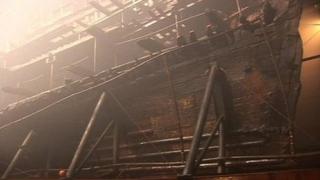 The opening of a new £36m museum for Henry VIII's flagship the Mary Rose will not take place until next year.
Trustees had hoped the building set to house the hull of the 500-year-old ship would be ready in 2012 for the 30th anniversary of the wreck's discovery.
The Portsmouth Historic Dockyard museum will also house 19,000 ship artefacts.
It is now set to open in early 2013 to ensure specialist glass cabinets, which will protect the priceless artefacts, are working properly, the trust said.
The Mary Rose Trust has received a £21m grant from the Heritage Lottery Fund to complete the conservation of the hull and build the permanent museum.
Work began on the museum in 2010 and the trust had been planning to open the museum to the public in 2012, but that date has now been revised.
Once it opens, it will reunite the ship and its 19,000 artefacts - including the skeleton of Hatch, the ship's dog.
The ship sank while leading an attack on a French invasion fleet in 1545, and was raised from the sea bed on 11 October 1982 after 437 years submerged in the Solent.