Agreement paves way for Farnborough cinema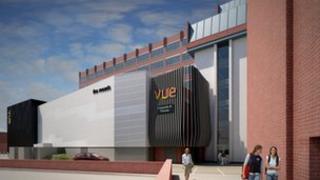 An agreement has been signed that will see a seven-screen cinema complex built in a Hampshire town.
Farnborough will also get 35,000 sq ft complex of restaurants by summer 2014.
The development at Queensmead is additional to Rushmoor Borough Council's £1m investment in the area.
Council leader Peter Moyle said: "At the moment, Farnborough offers a limited choice of evening entertainment, and this new scheme will give the town a real boost."
A 62,000 sq ft Sainsbury's, a 77-bedroom Travelodge, a New Look and Wetherspoons are already open in the town and a 24-hour fitness centre, above New Look on Queensmead, will be open by the end of September.