Mike Hancock returns to work after heart surgery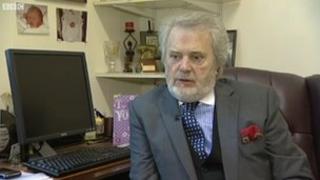 An MP who was forced to take time off following a series of major heart operations has returned to work in his constituency.
Liberal Democrat MP Mike Hancock underwent an operation at Queen Alexandra Hospital in Portsmouth in June to place a stent in one of his arteries.
When that was unsuccessful the Portsmouth South MP was transferred to Southampton General Hospital where he said his heart was "rebuilt".
Twelve hours after being discharged from hospital he was re-admitted with a blood clot on his lung.
'Slow process'
He said: "It's been a difficult and worrying time, and recovery will be a slow process.
"I'm having a lot of trouble sleeping because I'm in a lot of pain.
"A wound on my leg, which was created when surgeons removed some veins and placed them in my heart, is causing extreme discomfort because it isn't healing as it should."
Mr Hancock, 66, who had an affair with his aide, Katia Zatuliveter, who was last year accused of being a Russian spy, said he was now working from his office in London twice a week and from home the rest of the time.
He said he would begin cardiac rehabilitation on 18 June and would continue to work locally "as much as I can" until November when his treatment ends.
"I've been fairly wreckless in my life so from now on I'm going to slow down and take proper holidays," he said.
He added that staff in his London office had been dealing with his constituents in his absence.
"I was off sick during the summer holiday period which is traditionally slack in terms of work," he said.
"It's getting busier now though and that's why I'm back."
Miss Zatuliveter won her appeal against deportation in November 2011 after the Special Immigration Appeals Commission said it had seen nothing to prove she was a spy tasked with seducing Mr Hancock.
Mr Hancock resigned from his post on the defence select committee as a result of the investigation but said he had not passed on material to Ms Zatuliveter which was not in the public domain or which was classified.