New dementia hospital ward opens in Southampton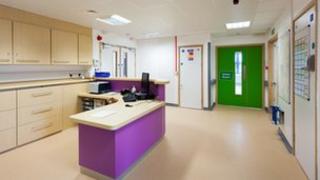 Southampton General Hospital has opened a new 28-bed ward designed to improve care for dementia patients.
It will also be home to the UK's first hospital-based specialist nurse rather than one attached to a community team.
Brightly coloured doors and large pictures instead of bed numbers are some of the features introduced to help patients feel comfortable.
Charity Dementia UK has called the project a "breakthrough moment" and a model for the rest of the country.
Blended doors
Matron Jill Young will lead the project on behalf of University Hospital Southampton NHS Foundation Trust.
She said: "We know dementia patients can be extremely confused in a hospital environment, particularly when they require medical treatment, and relatives are often concerned their dementia needs are neglected in the absence of carers or family.
"This new ward gives us a chance to show we are determined not just to improve care for patients, but to give families and friends the confidence we understand the condition and can offer the right support."
Changes to the ward environment include blending the colour of doors patients do not need to access in with surrounding walls, lowering the height of nurses stations, and locking paperwork away in cupboards to remove clutter.
Visiting time restrictions will also be lifted so relatives and carers can visit at any time of the day or night.