Ryde Castle Hotel blaze sparked by fireworks display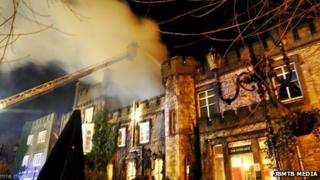 A firework display on top of an Isle of Wight hotel was probably the cause of a blaze in the building, an investigation has found.
Ryde Castle Hotel, owned by Greene King, partially collapsed during the fire in March, while a Hampshire couple's wedding reception took place.
Robert and Alex Ballard, from Gosport, escaped from the fire along with their 50 guests. No-one was injured.
Greene King said it took health and safety "very seriously".
A spokesperson added: "[We] regularly train our staff on these important procedures."
Mr Ballard, who did not take out personal wedding insurance, said he was still pursuing a £7,000 claim for damages from Greene King.
"We got about a quarter of our stuff back but it was all water damaged," he said.
"We lost our original wedding certificate and about half of our gifts - and we never even got to try our wedding food or cake."
He said his wedding day had turned into a "nightmare" but added married life was "absolutely brilliant".
Mr Ballard's claim is one of four submitted to Greene King in relation to the fire.
Greene King said in a statement it wanted to reassure the claimants it was taking their claims "very seriously" and was "working with independent assessors to reach an amicable solution as quickly as possible".
The 18-room hotel, which overlooks Ryde Esplanade and Harbour, is currently closed for refurbishment.