Funeral for Afghanistan shooting victim Matthew Smith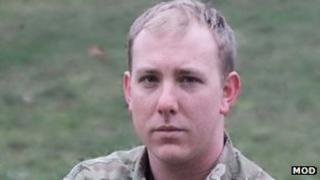 Hundreds of people have attended the funeral of a Hampshire soldier shot in Afghanistan.
L/Cpl Matthew Smith, 26, of the Royal Engineers, was shot on 10 August while trying to build a checkpoint in the Nad-e Ali district of Helmand province.
Born in Hong Kong, L/Cpl Smith grew up in Aldershot and joined the Corps of Royal Engineers in 2003.
He leaves behind a fiancée, Laura, and four young children, Lainie, Ella, Tilli and Jai.
The service, with full military honours, took place at the Royal Garrison Church of All Saints.
Ken Smith read his son's eulogy during the service and urged the congregation to live life to the full.
He said: "Until three weeks ago I took the term heartbroken for granted, but now I know exactly its true face value.
"From the day that Lainie was born he was besotted.
"He was soon to show that not only was he a great son, a fine solder, but also a fantastic dad. He was made for the job."
L/Cpl Smith was a keen footballer who played for three teams in Aldershot, as well as for the army, and supported West Ham United.